Lesley Kavanagh in Israel/Palestine taking part in the Ecumenical Accompaniment Programme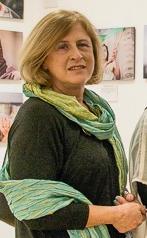 Lesley in Palestine/Israel on the Ecumenical Accompaniment Programme
"I have come to the Holy Land on the Ecumenical Accompaniment Programme in Palestine and Israel. Each day I sit in silence just as I do at home. Then I set forth to listen to stories and walk beside those who live in and walk and work this Holy Land.
I know that I would not be here were it not for the presence of Centering Prayer in my life. I am reminded that at the root of Centering Prayer is the acceptance of the basic core of goodness in each unique being.
Because of Centering Prayer I have found an understanding of what it means to be a contemplative in action.
These days it means sitting in a Bedouin tent and sharing warm unleavened bread with Abed the shepherd and his family as the sun comes up. Then walking with him and his flock of sheep in the arid pasture that would be considered waste land in Ireland but is sacred to him and his family.
These days it means taking the hand of the trusting Ansaf as she runs down the dirt track and greets me with a shy smile. Then seeing her and her friends through a checkpoint as she goes to and from school.
These days it means acknowledging without judgement the young armed woman soldier A197 who stands doing her job at the Damascus Gate in old Jerusalem.
In a couple of months I will take the stories of Abed and Ansaf and A197 in my heart as I go back to my life in County Waterford. There I will marvel at sheep nourishing themselves in our lush green fields. I will celebrate children skipping along to school having been dropped at the gate by parents who have free access to travel. I will chat with our friendly Garda (police officer) as we queue side by side at the coffee shop.
All will be changed and yet all will be the same as I sit down in the silence".