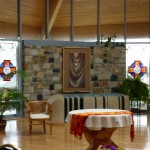 In a retreat setting the length of the periods of Centering Prayer are extended… Lengthening or multiplying the periods of Centering Prayer can help to deepen the experience of interior silence…we are perfectly capable of an extended period of resting in God, especially with the support of a group.
– Thomas Keating Open Mind Open Heart

Contemplative Outreach Retreats – 2019
Contemplative Outreach Dublin
Centering Prayer Retreats
October
October 19th/ 20th
Introduction to Centering Prayer
Saturday:9:30am–6:00pm, Sunday 9:30am-2;00pm
This 2 day retreat offers a practical and experiential introduction to the Centering Prayer. Centering Prayer is a non-vocal, non-conceptual method of meditation that is for everyone. The prayer offers a method of consenting to God's presence and action within oneself and in daily life. It invites God to transform us and to help this to grow spiritually. Establishing a practice of centering prayer can change a person's life and become the foundation of a deep personal spirituality. The introduction is based upon the writings of Fr. Thomas Keating O.C.S.O.
Faciliated by Br. Denis Glesson cfc
Emmaus Retreat Centre
Ennis Lane, Lissenhall, Swords, Co. Dublin. K67 Y274
Email : emmauscentre@emmauscentre.ie
Ennis Lane, Lissenhall, Swords, Co. Dublin.
Phone: (01) 8700050
Upcoming Retreats with Contemplative Outreach Ireland
. 6th – 13th November 2019 8 Day Post-Intensive Retreat. Ballyvaloo Retreat Centre, Co Wexford.
• 29th Nov – 1st December 2019
Advent Weekend Retreat. Ballyvaloo Retreat Centre, Co Wexford