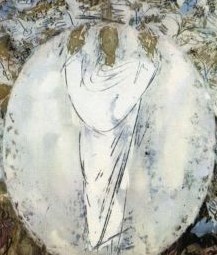 Blessed are you who believed
that what was spoken to you by the Lord
would be fulfilled.
– Luke 1:45
"The dialogue between our contemplative vision and how we incarnate it is the subject of the beatitude, 'Blest are the single-hearted for they shall see God.' The single-hearted see God in themselves, in others and in the ordinary events of life. … Contemplative prayer is the place of encounter between the creative vision of transformation and the actual incarnation of that vision day by day. Practice is the translation of the creative vision into the concrete circumstances of each day. … It must be emphasized over and over that daily life is the fundamental practice."
Thomas Keating
The Mystery of Christ
Blessed are you who believe in a vision of what is not yet … a creative vision of the future. And blessed are you who commit to the radical path of the contemplative life, where Thomas Keating says God can and will do anything. And blessed are you who believe it, and say YES day after day to the radical kenosis of silence and stillness, and the radical revelation of wholeness and unity here and now. And blessed are we to receive the transforming transmission that radiates from you.
A blessed Christmas-Epiphany season to each of you sacred Incarnations.
Amen.
This two-day summit features ten Centering Prayer leader-teachers on a variety of topics related to contemplative life and prayer. Four Centering Prayer practice sessions in community will be shared over the two days.
The keynote address by Cynthia Bourgeault & Ted Jones is on The Evolving Consciousness of Thomas Keating.
For more information and to register, please go here.
http://www.contemplativeoutreach.ie/wp-content/uploads/contemplative-1.jpg
255
217
Peter Donnelly
http://www.contemplativeoutreach.ie/wp-content/uploads/logoie.png
Peter Donnelly
2021-12-21 22:25:53
2021-12-21 22:25:53
December e-bulletin